When I had the first thought to start doing these Manly Mondays, I made a mental list of men in my life who I would be honored to have write a little something for me, for this blog that I hope Natalie will look back on one day to get glimpses into the love that surrounded her childhood. Mike's dad, my dear father-in-law, was one of the first to come to mind. He has been such a great source of support to us in our adult lives--he was the one to pull out a calculator and notepad when we were trying to figure out if we could afford a house (and his hard work and sweat equity are evident throughout its walls today); he and Sherry have been our vacation partners and holiday companions; he has been there to lean on through the most challenging times in our relationship; and he is a completely doting grandfather who I know would do anything for our Natalie.

I asked him to share his thoughts on our Father's Day together, and he kindly obliged. Enjoy!

**********************************************


June 18th to June 22nd
Rockland, Maine

Is there anyplace on earth quite like the beautiful coast of Maine on a bright, clear, summer's day? Clean fresh air backed by a refreshingly cool sea breeze, gently pushing puffy white clouds across a gorgeous blue sky... sailboats gliding through the crystal clear waters of the picture-postcard harbor with the stately Rockland lighthouse as a backdrop. Sounds like it couldn't get any better, right?



Now imagine that scene and picture your beautiful, nearly 15-month old granddaughter reaching up to hold your hand as you walk along the shore. A deep sense of love and joy fills your heart, and you whisper a secret thanks to God for allowing you to experience even one such moment in your entire life. I'm not sure what heaven is like, but it would be hard to imagine that it could be more magnificent than what I experienced and felt at that moment.

Michael and Hilary hosted the most wonderful Father's Day ever. Hil's father Kenneth is just a terrific, intelligent, resourceful, good-hearted man and he and his lovely wife Laura joined Sherry and I at Mike and Hil's house for a truly memorable day. We all took Natalie for a walk out on the breakwater in Rockland harbor that connects to the lighthouse, and that excursion is what led to the description provided above. We were joined later on by Hilary's sister Emma and her fiance Rob for a delicious family cookout and get-together in Mike and Hil's back yard. We all took turns playing with (and watching over) our darling Natalie.



Life is so sweet and wonderful when you can share it with the people you love. I am so proud of Michael and Hilary for building the life they have together. They are perhaps the best parents that I have ever known. I can think of no greater testament than that. I would walk barefoot across the Sahara desert to get to my son and his beautiful wife if I had to... then factor in those tiny little fingers gently clutching my hand, and I would move heaven and earth to be there.



Thank you for the best father's day ever, and thank you for sharing your life and your family with us.

With love always,
Grandpa Bill

************************************************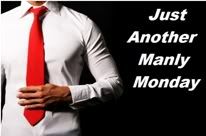 Manly Mondays will continue through the end of the summer (I've got more great ones lined up!). If you'd like to get in on the action, just link to a post written by a guy you've recruited into this blogging business!

Oh! And there is more fun guy-guest-posting-on-a-mommy-blog stuff out there for your reading pleasure--check out the Papa Posts on TART & Papa Said on Sometimes Sweet!